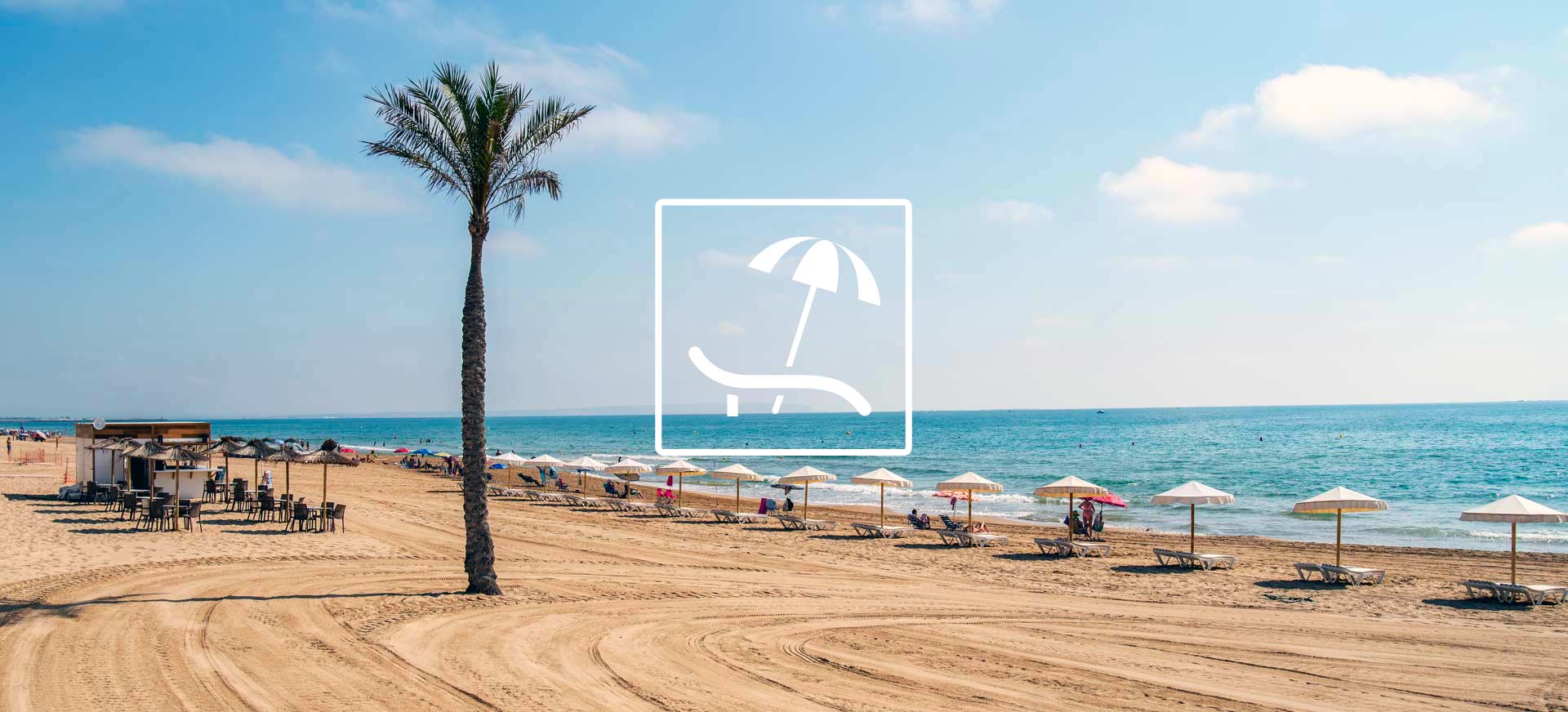 Guardamar's 11 km of fine golden sand beaches
Guardamar beaches are classed amongst the most beautiful and unique on the Spanish Mediterranean Coast. We love to boast about our 11 km of fine golden sand beaches bordering the long coastal dune pinewoods. Of these, 2 km are located to the north of the River Segura and 9 km to the south. The Guardamar Sand Dunes Woodlands surface is of 800 hectares (almost 2,000 acres), with a maximum width of 1,400 metres, meaning almost a mile. Vegetation consists basically of eucalyptus and palm trees, other Mediterranean and introduced exotic species.
North of the River Segura you will find Els Tossals Beach, a naturist or nudist beach 1,661 meters long,
South of the River Segura there are 7 different beaches summing up about 9 km, some absolutely natural and others fully urban on the town's shoreline itself. From north to south their names are: Els Vivers, La Babilònia, Centre, La Roqueta, El Montcaio, El Camp and Les Ortigues. The urban town beaches are known as: Centre and La Roqueta. Our Seafront Promenade borders the lively Centre Beach where you can enjoy fine cuisine.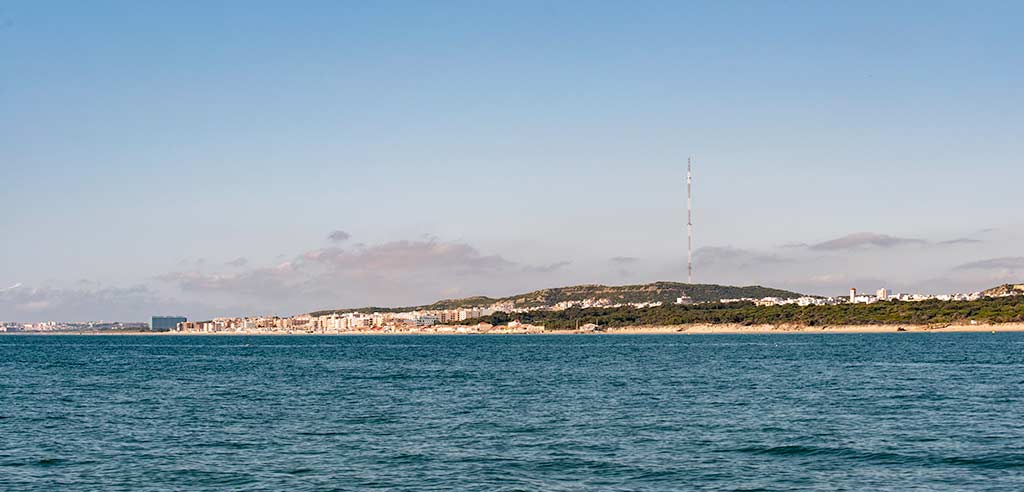 Along the right bank of the mouth of the River Segura you will find the Fish Exchange (Llotja de Peix) with fish auctions on Monday to Friday mornings and the Nautical Sports' Marina, located 2 km from Guardamar's town centre. It is also a major Birdwatchers' sighting area, a birdwatchers' haven.
Guardamar offers beaches of high ecological value, with 4 Blue European quality flags in one of the most beautiful environments on the Spanish coast.
Guardamar is at the far south of the Costa Blanca, a 25 minutes drive from Alicante International Airport. It has the warmest sea waters in Spain. The average seawater temperature is 26°C in August, dropping to around 18°C in the mild winter months. It is not unusual to see swimmers in winter, especially those coming from central and northern Europe. You can also sunbathe on our golden sands the year round.
Platja dels Tossals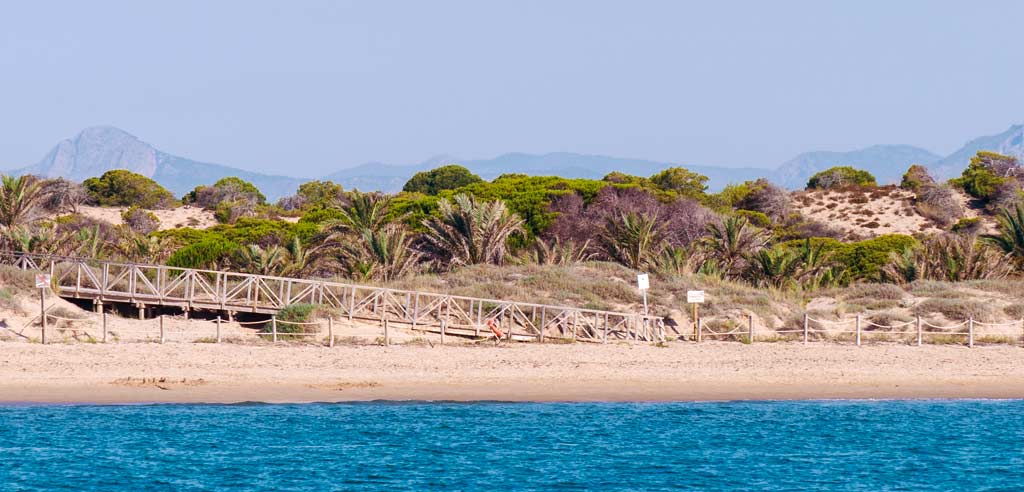 Naturist beach
Length: 1,661 m
Golden sands
It is an unspoilt beach, located north of the mouth of the River Segura, with access from the N-332 coastal Alicante-Cartagena Road at the height of the 5 stars Luxury Class Alannia Guardamar Camping Resort.
It extends to the border of Guardamar's limits with the city's of Elx/Elche district. The quality of the sand and water is extremely high. It has thick vegetation and natural dunes, making it even more attractive and suitable for nudists.

 Platja dels Tossals
Platja dels Vivers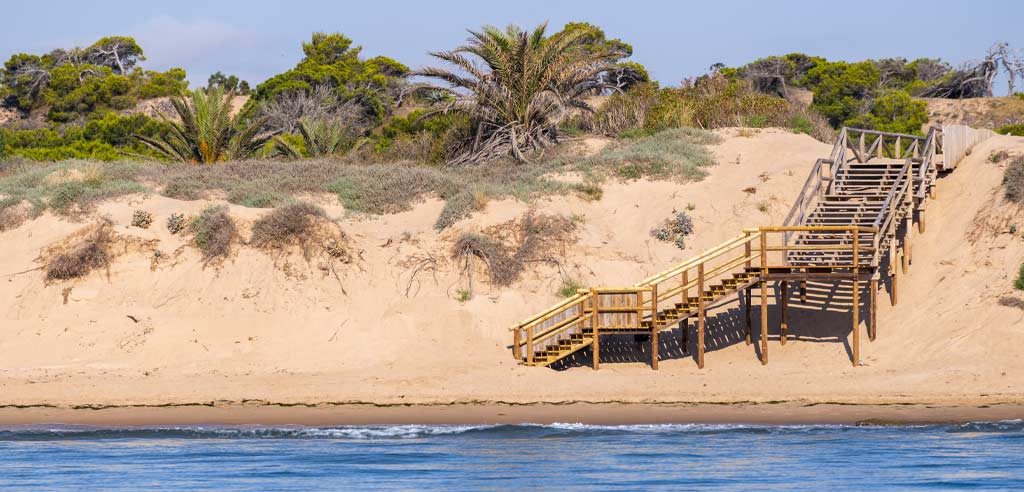 Blue Flag beach
Length: 1,210 m
Golden sands
It is a natural, open and unspoilt beach bordering the River Segura to the north and La Babilònia Beach to the south. The beach is well known for its fine sand and its environment, alongside an important dune belt with lush vegetation and pinewoods.
Within a short walking distance there is an important archaeological site known as La Fonteta, with remains from the Caliphate Rabita or Islamic Mediaeval Monastery and the Phoenician Port known as 'La Fonteta'
Platja de la Babilònia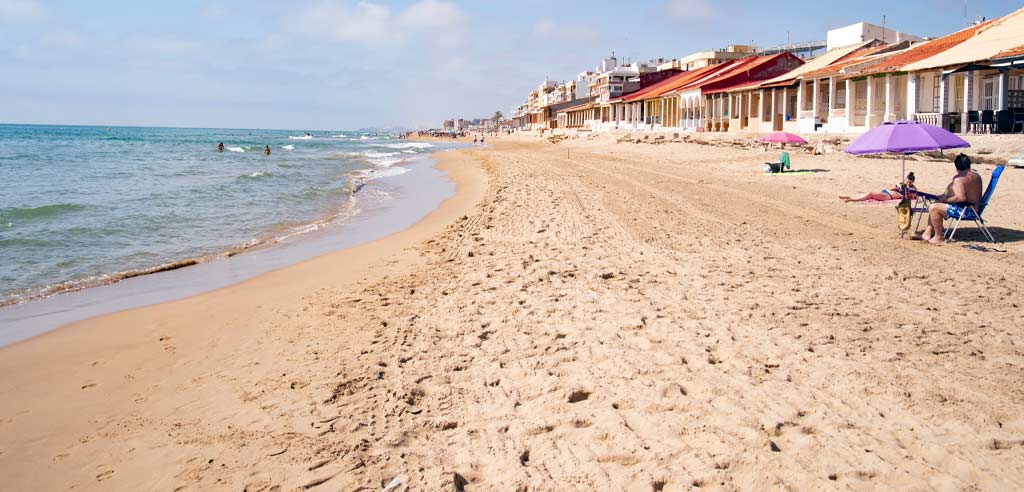 Length: 1,060 m
Golden sands
Located between Centre and Els Vivers beaches. It is well known for its seafront cottages.
Platja Centre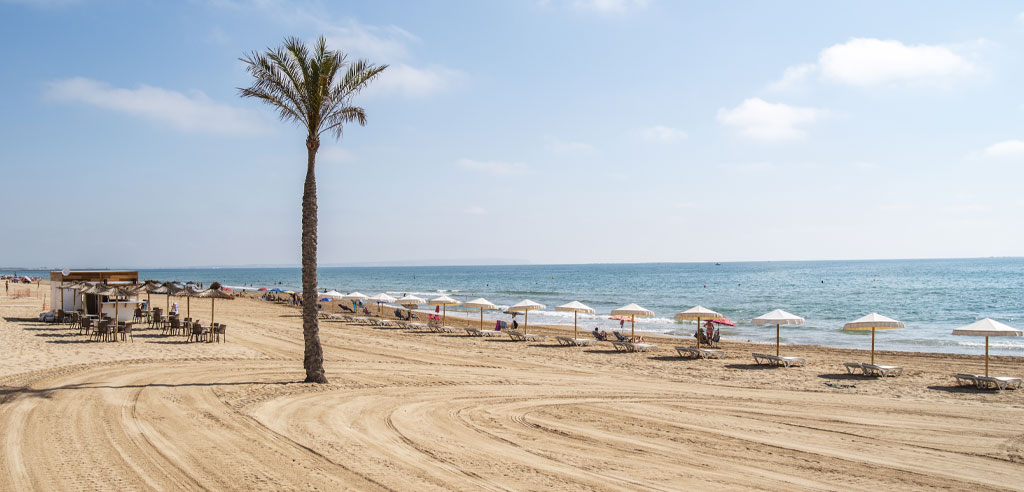 Blue Flag beach
Length: 427 m
Golden sands
On the southern edge of the dunes of Guardamar and the nearest to the town's centre. This beach ‒ bordering with La Babilònia Beach to the north and La Roqueta Beach to the south ‒ offers almost half a kilometre of fine sands and clear waters.
It is crossed by the Passeig Marítim (Seafront Promenade), where you'll find a splendid array of restaurant overlooking the beach and sea. It is also very close to the Reina Sofia Park, a pleasant natural space with fountains, lakes and trees, very lively in the late afternoon and evening.
Platja La Roqueta
Blue Flag beach
Beach accessible to the disabled
Length: 1,164 m
Golden sands
It is an open beach located in the town's urban and semi-urban area to the south. It borders with Centre Beach to the north and Montcaio Beach to the south. Its fine golden sands, sea water quality and the services offered make it very attractive for a day with the family.
Platja del Montcaio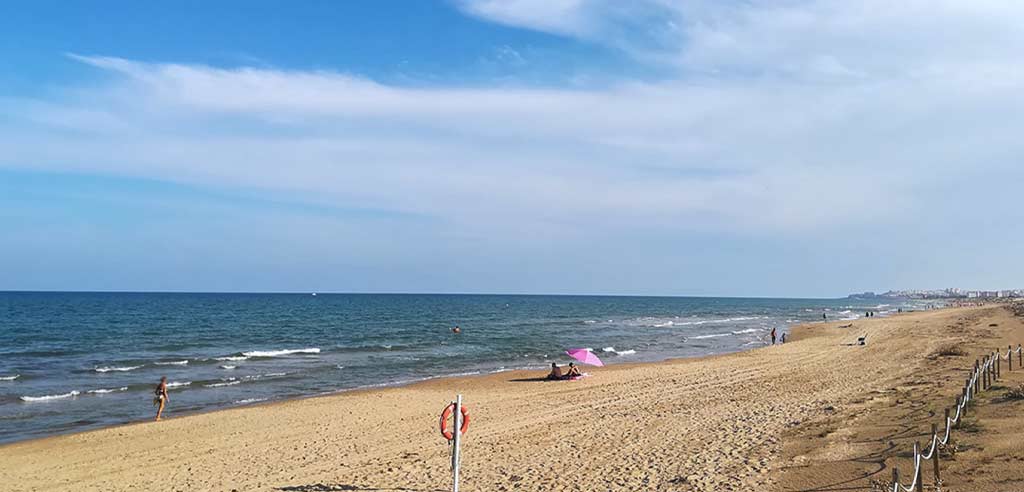 Blue Flag beach
Length: 1,451 m
Golden sands
Open spaces and small open dunes best describe this beach almost 1,5 km long. It has fine golden sands. It is a transition zone between the city's urban development and the dunes to the south.
Platja del Camp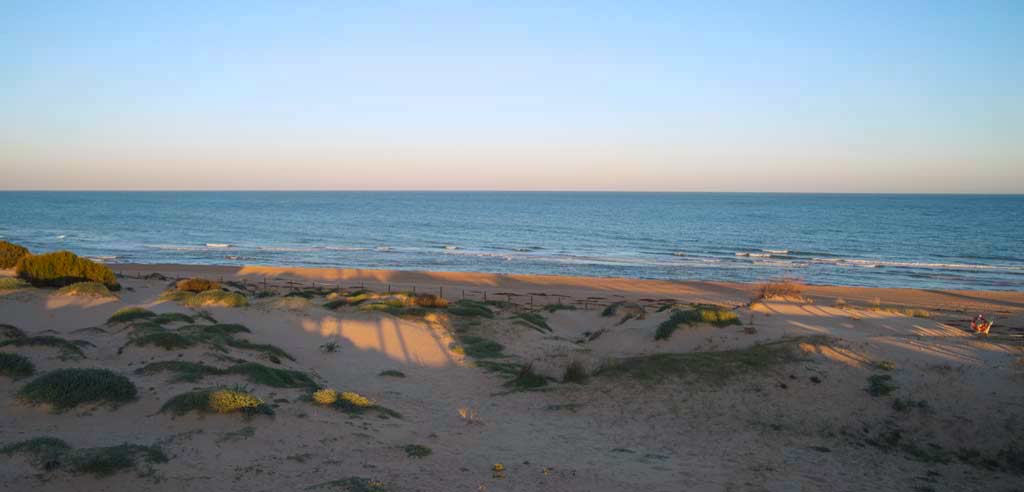 Length: 2,021 m
Golden sands
More than two kilometres of fine golden sands make this quiet natural beach a very special environment. Surrounded by a coastal countryside landscape there is a large area of dunes fixed with Mediterranean vegetation.
It is a part of the Guardamar Coastal Pinewoods with pines and other trees and species. There are no buildings here making this natural area even more pleasant and quiet.
Platja de les Ortigues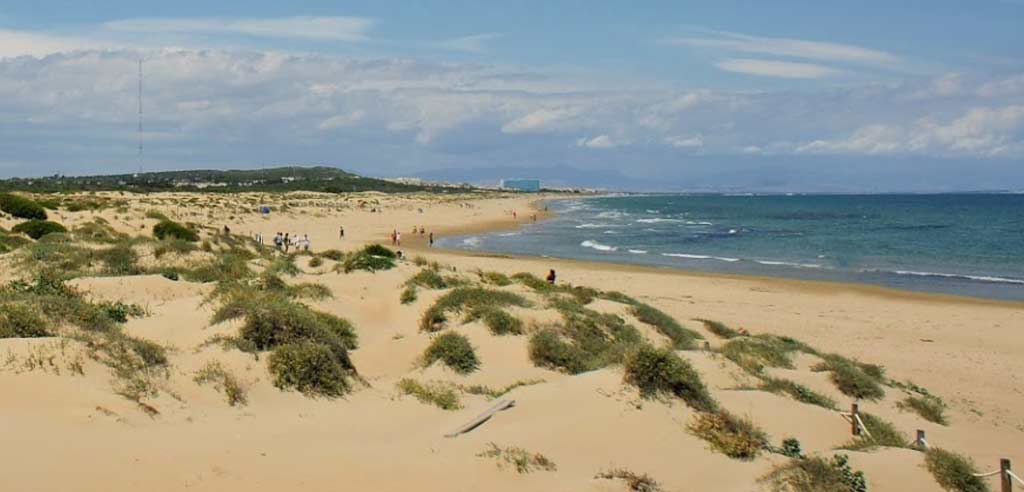 Length: 1,457 m
Golden sands
Located on the edge of Guardamar district towards Torrevieja. It is a vast virgin beach of fine golden sands, with wide open spaces and an environment of dunes in an area where the Mediterranean delivers its best of intense blues.
Located next to the El Camp Beach, on the final stretch of the Guardamar Coastal Pinewoods. It is a wide strip of golden sands where you will be able to enjoy long walks.