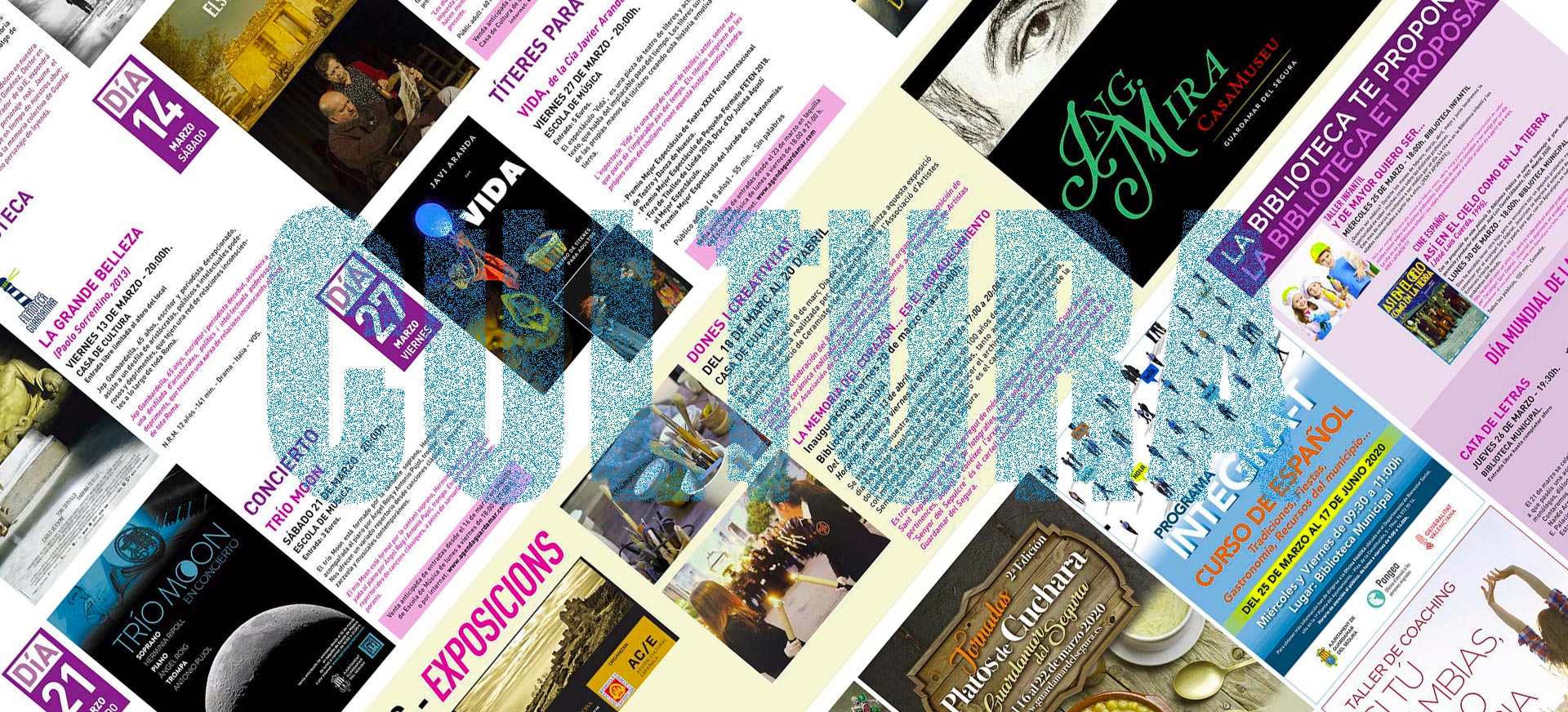 Cultural Agenda
When we say that Guardamar is culture, there is a wide cultural agenda full of events of all kinds and for all generations to prove it. You will be able to attend the best premiere cinema and our film library, music concerts, exhibitions of all kinds, workshops for children or, simply, enjoy a good play. Guardamar is committed to culture. Please check our monthly cultural agenda in this web or ask for your paper copy in Spanish or English from our Tourist Office.
Featured acts
SHOW: Trash!

Saturday, 28th May at 8 p.m.
House of Culture. Ticket: 3 €
EXHIBITIONS
From May 4th to 20th. Council Library's Hall
Painting exhibition by the students of the Ukrainian painter Tatiana Merenis
Visiting hours: from Monday to Friday: from 9 a.m. to 1.30 p.m. and from 5 p.m. to 8 p.m.
Exhibition in House of Culture
Exhibition of the works by the students of painting, ceramics, pattern and patchwork workshops of the year 2021/2022
PAINTING AND CERAMICS: Opening May 10th
PATTERN AND PATCHWORK: Opening May 24th
From May 26th to June 10th. Council Library's Hall
Exhibition of plastic works and artistic drawing of the Highschool 'LES DUNES' students
Visiting hours: Monday to Friday from 9 a.m. to 1.30 p.m. and from 5 p.m. to 8 p.m.
From May 20th to June 17th. House of Culture
Una història de titelles (University of Alicante)
This exhibition is a tour through the history of puppets, presenting us an exhibition with dolls of all kinds of materials and possible forms of manipulation. A heritage of Valencian society that, in addition, has an unparalleled identity value.
CONFERENCES
Friday, 6th May at 7.30 p.m. House of Culture Conference Room
Free entrance
Conferences '750 Aniversari Vila i Castell de Guardamar' (750th Anniversary of the Town and Castle of Guardamar)
Conference: 'La villa de Guardamar en la primera mitad del siglo XIV' (The town of Guardamar in the first half of the 14th century)
Speaker: José Vicente Cabezuelo Pliego
Conference: 'Tiempos de transformaciones: Guardamar durante el XVIII y los albores del XIX' (Time of transformations: Guardamar during the 18th century and the beginning of the 19th century)
Speaker: Antonio Jesús Puigcerver Viudes
BOOK PRESENTATION
Friday, May 6th at 7.30 p.m. School of Music
Act of homage to Vicente Martínez Morante and book presentation 'Vicente Martínez Morante. Una mirada en el corazón', by Francisco Javier Montesinos and published by 'Institut d'Estudis Guardamarencs'.
Presentation and audition of the pasodoble 'Vicente Martínez Morante', composed by Antonio Pujol.
Free entrance limited to the capacity
Friday, 20th May at 7.30 p.m. Council Public Library Conference Room
El espejo de la memoria, by Antonio Zaragoza Pons
Free entrance limited to the capacity
ELECTION GALA OF THE LADY OF GUARDAMAR
Saturday, May 7th at 8 p.m.
33rd Election gala of the Lady of Guardamar
Invitations on www.agendaguardamar.com
CINEMA
Monday, May 9th at 6 p.m. Council Library
Tres anuncios a las afueras (2017) by Martin Mcdonagh
Drama. 1 h and 55 min. + 16 years old. Language: Spanish
Free entrance limited to the capacity
Friday, May 13th at 7.30 p.m. House of Culture
Otra ronda (2020) by Thomas Vinterberg
Drama. 1 h and 56 min. + 16 years old. Original version with Spanish subtitles
Free entrance with invitation on www.agendaguardamar.com
Saturday, May 14th at 7.30 p.m. House of Culture
Animales fantásticos: Los secretos de Dumbledore (2022) by David Yates
Science Fiction. 2 h and 23 min. + 7 years old. Language: Spanish
Ticket: € 5 on www.agendaguardamar.com
Friday, May 20th at 7.30 p.m. House of Culture
Noche en la tierra (1991) by Jim Jarmusch
Comedy. 2 h and 10 min. +18 years old. Original version with Spanish subtitles
Free entrance with invitation on www.agendaguardamar.com
Monday, May 23rd at 6 p.m. Council Library
Dolor y gloria (2019) by Pedro Almodóvar
Drama. 1 h and 53 min. + 16 years old. Language: Spanish
Free entrance limited to the capacity
LADY OF FÁTIMA PILGRIMAGE
Friday, May 13th. Campo de Guardamar
Acts:
– Departure from the Parish of Guardamar at 7 p.m.
– Departure from the Campo de Guardamar Hermitage to Dos at 7.15 p.m.
– Meeting with the pilgrims who come from Guardamar
– Return to the Campo Auditorium
– Mass in honour of our Patron, the Lady of Fatima
– Flowers offering in the Hermitage
– To finish, a sandwich and soft drink will be offered to all the pilgrims
CONCERTS
Saturday, May 21st at 8 p.m. School of Music
Se canta, pero no se toca, by Melomans (a cappella music concert)
Ticket: € 3 on www.agendaguardamar.com
Saturday, May 28th at 8.00 p.m. House of Culture.
TRASH! by Yllana and Thöthem (percussion show)
Ticket: € 5 on www.agendaguardamar.com
STORY-TELLING
Wednesday, May 18th at 6 p.m. Children's Council Library
Cuentacuentos de Quita y Pon, by Juan Malabar
Free entrance
WORKSHOP FOR CHILDREN
Wednesday, May 25th 6 p.m. Children's Council Library
Els animals i els seus estils de vida: La libèl·lula
15 seats
Book your seat calling on 966 72 71 70 or by WhatsApp on 696 11 34 46
GUIDED TOUR AND WORKSHOP FOR CHILDREN AT THE GUARDAMAR CASTLE
Saturday, May 28 at 11.30 a.m.
Departs from the northern entrance of the Castle
Ticket: € 3 per person (kid or adult) on www.agendaguardamar.com