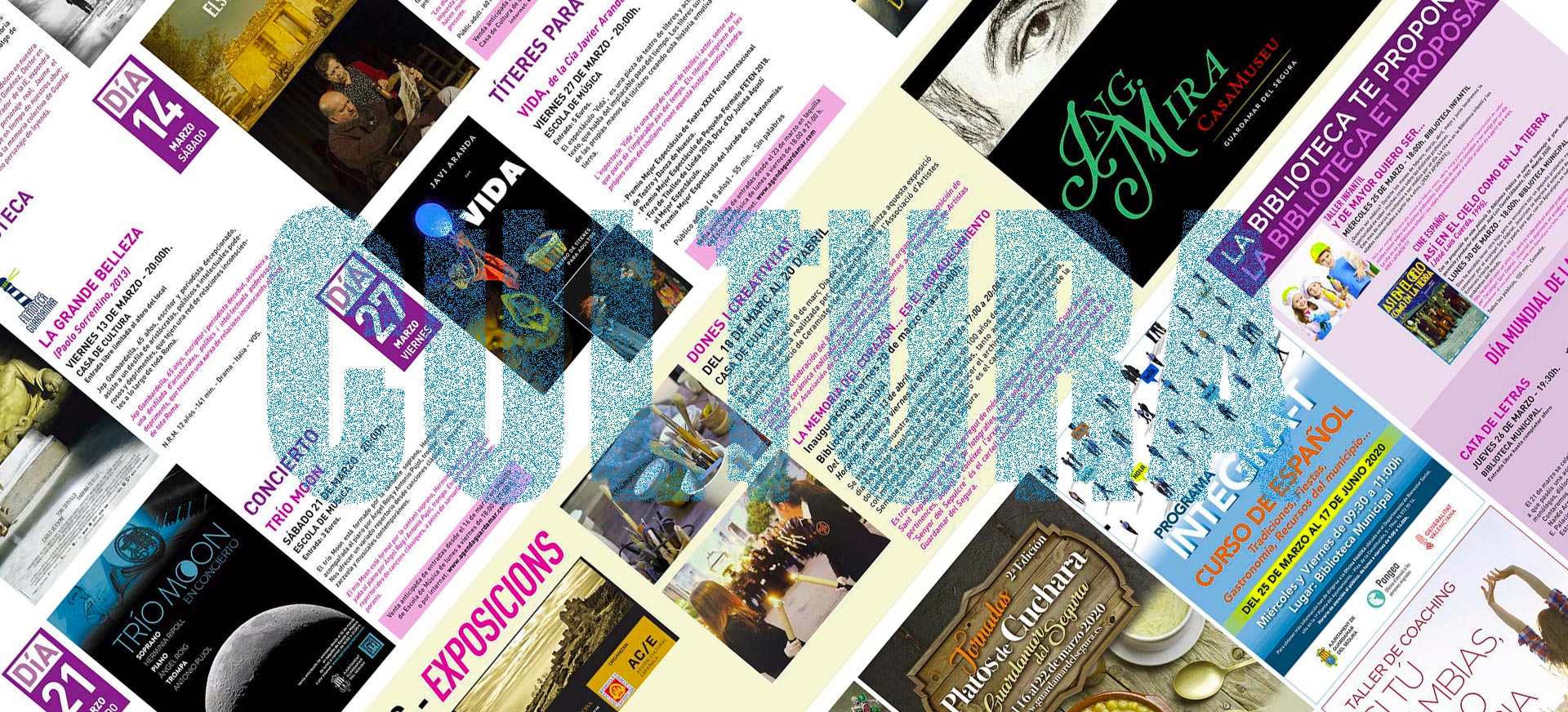 Agenda Cultural
When we say that Guardamar is culture, there is a wide cultural agenda full of events of all kinds and for all generations to prove it. You will be able to attend the best premiere cinema and our film library, music concerts, exhibitions of all kinds, workshops for children or, simply, enjoy a good play.
Guardamar is committed to culture. Please check our monthly cultural agenda in this web or ask for your paper copy in Spanish or English from our Tourist Office.
Featured acts
CHILDREN: Children's stories

Wednesdays in September – 19:00 h – Reina Sofía Park
Free admission with invitation.
EXPO: Defensive architecture in Spain

Free temporary expo – Casa de Cultura
CULTURAL PROGRAMME SEPTEMBER 2020
CHILDREN'S STORIES
Intercultural project PALABRAS DEL MUNDO, where Alberto Celdrán and Héctor Bardisa will read their stories and tales for children, during the 4th Wednesday of September in the Reina Sofía Park.
Wednesday 2 19:00 hs
Words of the World – Alberto Celdrán.
Wednesday 9 19:00 hs
Stories from here and there – Alberto Celdrán
Wednesday 16 19:00 hs
My African stories – Alberto Celdrán.
Wednesday 23rd 19:00 hs
Your home the world – Héctor Bardisa
Wednesday 30th 19:00hs
Stories of yesteryear – Alberto Celdrán.
**RESERVATION OF PLACES FOR CAPACITY CONTROL:
bienestarsocial@guardamardelsegura.es
Tel: 965 729 014
GUIDED TOURS AT THE CASTLE FOR CHILDREN
Saturdays 12, 19 and 26
Sundays 13, 20 and 27
September 2020 – from 7 pm to 8.30 pm
Free entrance with invitation
More information and invitations in www.agendaguardamar.com
THEATER
Saturday September 19th at 8 pm. Casa de Cultura
"Els dies de la nit" by Joan Lluís Moreno, directed by Pep Cortés, cast: Neus Agulló and Tomás Mestre.
Ticket: 5€. Tickets from September 7th on www.agendaguardamar.com
For adults. Duration: 60 minutes. Valencian language.
CINEMA
Saturday, September 26th at 6 pm. Casa de Cultura
"Las aventuras del Doctor Dolittle" (Stephen Gaghan, 2020)
Ticket: 5€. Tickets from September 14th on www.agendaguardamar.com
All the publics. Duration: 101 minutes. Adventures.
EXHIBITION. CASA DE CULTURA
"Arquitectura defensiva en España" (Defensive architecture in Spain)
Free temporary exhibition
Schedule: Tuesday to Saturday 11 am to 2 pm and from 6 pm to 9 pm