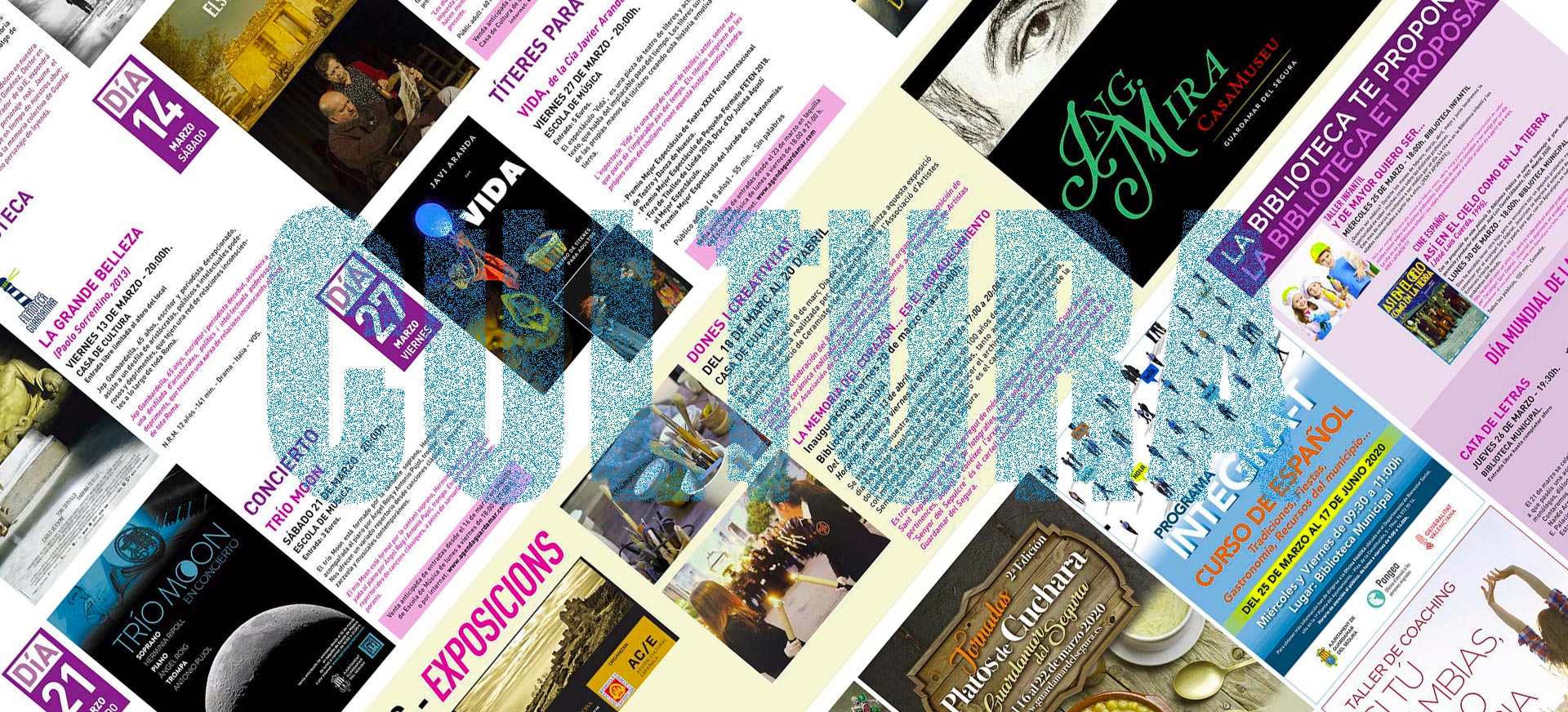 Cultural agenda
When we say that Guardamar is culture, there is a wide cultural agenda full of events of all kinds and for all generations to prove it. You will be able to attend the best premiere cinema and our film library, music concerts, exhibitions of all kinds, workshops for children or, simply, enjoy a good play. Guardamar is committed to culture. Please check our monthly cultural agenda in this web or ask for your paper copy in Spanish or English from our Tourist Office.
Featured acts
CULTURAL AGENDA JANUARY 2023
EXHIBITIONS
Until January 20th. House of Culture
VIII MOSTRA D'ART JOVE "EN CREACIÓ" 2022
Collective exhibition that collects the works of young artists in different fieldworks of plastic arts, photography, fashion design, drawing and that this year celebrates its 8th edition.
Free entrance
From January 28th until February 12th. Council Library Hall
EXHIBITION OF THE PHOTOGRAPHIES THAT HAVE PARTICIPATED IN THE 18TH MOORS & CHRISTIANS PHOTOGRAPHY CONTEST 2023
Opening: Saturday, January 28th at 8 p.m.
Free entrance. Visiting hours: from Monday to Friday from 9 a.m. to 1 p.m. and from 5 p.m. to 8 p.m.
THEATRE
Saturday, January 14th at 6 p.m. School of Music
LA MÁQUINA DE RUBA GOLDBERG by Nacho Diago
For all the family. Magic show.
Ticket: 3 € on www.agendaguardamar.com
CINEMA
Monday, January 16th at 6 p.m. Public Council Library
CAFARNAÚM (2018, Nadie Labaki)
+16 years old. Drama. 2 hours and 6 minutes. Spanish
Free entrance limited to the capacity
Friday, January 20th at 7.30 p.m. House of Culture
DHEEPAN (2015, Jacques Audiard)
+16 years old. Drama. 1 hour and 55 minutes. French
Free entrance with invitation on www.agendaguardamar.com
Saturday, January 21st at 6.30 p.m. House of Culture.
AVATAR: EL SENTIDO DEL AGUA (2022, James Cameron)
+12 years old. Science Fiction. 2 hours and 51 minutes. Spanish
Ticket: 5 € on www.agendaguardamar.com
Monday, January 23rd at 6 p.m. Public Council Library
MIL AÑOS DE ORACIÓN (2077, Wayne Wang)
All the publics. Drama. 1 hour and 23 minutes. Spanish
Free entrance limited to the capacity
Friday, January 27th at 5.30 p.m. House of Culture
EL CANTO DE LA SELVA (2018, Joao Salaviza and Renée Mesora)
All the publics. Drama. 1 hour and 55 minutes. Portuguese
Free entrance with invitation on www.agendaguardamar.com
WORKSHOPS
Wednesday, January 25th at 5.30 p.m. Children's Library
CONEIX EL TEU POBLE: LA RÀBITA I LA FONTETA
Recommended age: from 4 years old
20 seats. Booking by WhatsApp 696 113 446 or calling on 96 672 71 70
CONCERTS
Saturday, January 28th at 7 p.m. School of Music
CONCIERTO DE PIANO A CUATRO MANOS (PIANO CONCERT) by Corinne Lardy and Olga Snopkova
Free entrance with invitation on www.agendaguardamar.com
YOGA
Every Saturday from 21st January to 25th March 2023
From 9 a.m. at the Palau Sant Jaume (Sports Centre)
Price: 30,25 €
Teacher: María Medina
You must bring your own mat
More information on www.guardamardelsegura.es