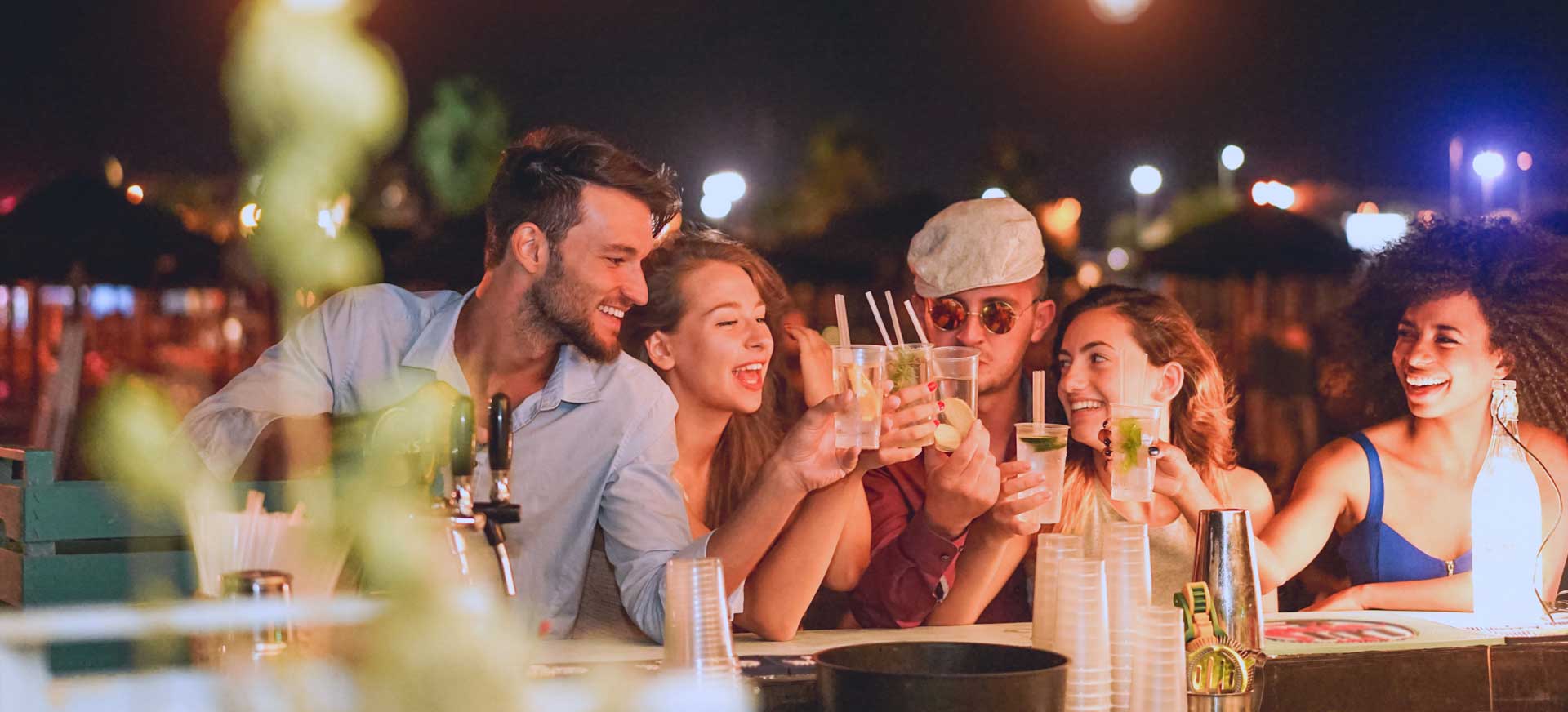 Guardamar Nightlife
Guardamar has a lively network of nightlife venues where you will enjoy your night out as a couple or with friends. Have a drink in charming terraces, dance in trendy pubs or give it all you've got in a karaoke.
We propose a few places for you to visit and enjoy Guardamar at night.
Heaven's Door Beerhouse

If drinking beer is your thing, this is your place. Also, the burgers are delicious!
Rating: ♥♥♥♥♥
Web:  
Sky Bar

A terrace with spectacular views and premium cocktails on the roof of the Hotel Meridional★★★★ in front of La Roqueta Beach
Rating: ♥♥♥♥♥
Web:  
La Bohème Pub

A special corner in Guardamar: excellent service, atmosphere, variety of drinks, music and a large terrace next to the Reina Sofía Park.
Rating: ♥♥♥♥♥
Web:  
La Estación Disco-Pub

The venue with the best drink and a fully licensed party room. Great dancing atmosphere. Premium drinks, billiards, darts, shishas, sunroom and outdoor terrace. Get on the train!!
Rating: ♥♥♥♥♥
Web:  
La Bolera Pub Karaoke

Nice place, very friendly staff and a great place to have a good time singing or playing in the mini bowling alley.
Rating: ♥♥♥♥♥
Web:  
Eclipse Pub

Nice place, with indie music where you can enjoy national and international drinks in a youthful environment.
Rating: ♥♥♥♥♥
Web:  
Om Rock Bar

Rock&Roll pub with great atmosphere, terrace, darts at great convenient prices.
Valoración: ♥♥♥♥♥
Web:  
Clouseau Pub

Young friendly pub with great convenient prices, terrace and TV screen to watch football matches.
Rating: ♥♥♥♥♥
Web:  
Commite Night Club

Pub disco club. Entrance over 18 years old. Great offer and a diversity of brands in beers and gins. Excellent service.
Rating: ♥♥♥♥♥
Web:  
Otros locales y bares de copas en Guardamar